"God is a spirit; and they who worship him must worship him in spirit and truth."
John 4:24
What we believe about baptism and the Lord's Supper

Both of these are ordinances and not sacraments. They were ordained by the Lord and are, therefore, obligatory, for every believer. Neither is conducive or in anyway contributive to salvation. Baptism is an outside demonstration of the believer's identification with Christ in death, burial and resurrection. It is a prerequisite to church membership and participation in the Lord's Supper. The believer is not baptized in order to be saved, but rather because he is saved. The second ordinance is symbolic and commemorative of Christ's death. He said, «this do in remembrance of me.»(1 Cor. 11:24). Participation in the Lord's Supper presupposes acceptance of Christ as Savior and baptism on the communicant's part, as well as a life of holiness and separation from the world. Paul's admonition and warning is: «Let a man examine himself, and so let him eat of that bread, and drink of that cup. For he that eateth and drinketh unworthily, eateth and drinketh damnation to himself, not discerning the Lord's body. For this cause many are weak and sickly among you, and many sleep. For if we would judge ourselves, we would not be judged. But when we are judged, we are chastened of the Lord, that we should not be condemned with the world» (vv.28-32). The ordinance of the Lord's Supper is for saints, not for sinners!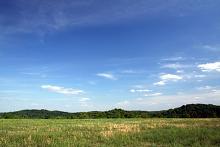 "The heavens declare the glory of God; and the firmament sheweth his handywork."
Psalms 19:1